Hello middle school families, Just a reminder that there is no school this Wednesday, Thursday, and Friday for parent teacher conferences. If you have not yet signed up for a virtual conference for your student, please do so as soon as possible. You can sign up for a conference using Parent Vue. If you are having trouble signing up for a time please reach out to your student's homeroom teacher. Thank you

Middle School kids will only be allowed into the LHS Football if accompanied by a paying adult. Adults are responsible for supervising all children they bring to the game. Thank you

7th and 8th grade boys basketball season starts October 25th and runs through December 9th. If your student is interested please register them online at
https://or-lagrande.intouchreceipting.com/signin
A current sports physical is required.

Cook Memorial Library provides free literacy tutoring Tuesday - Thursday weekly from 1:45 - 4:30pm. Here is the Application for Free Tutoring and Scheduled Access to Learning Stations:
https://forms.gle/ujzefuLCBq1KnKPN9
During open hours, all ages are welcome, and Literacy Center services are free of charge. Please drop in to check out our collection of available educational games and materials, and use the Literacy Center's PCs and AWE computer learning stations. Students may stay longer than their scheduled hour. Learning packets are sent home with students for additional learning and practice. Tutors will go over materials to make sure that your student understands. Please feel free to review work on the packets with your student, as repeating helps with comprehension, and students begin using self-correcting techniques while rereading. Students who complete their packets receive prizes during their subsequent tutoring sessions! If you have questions, contact Myra via email:
mbritschgi@cookmemoriallibrary.org
, or phone: 541-962-1339.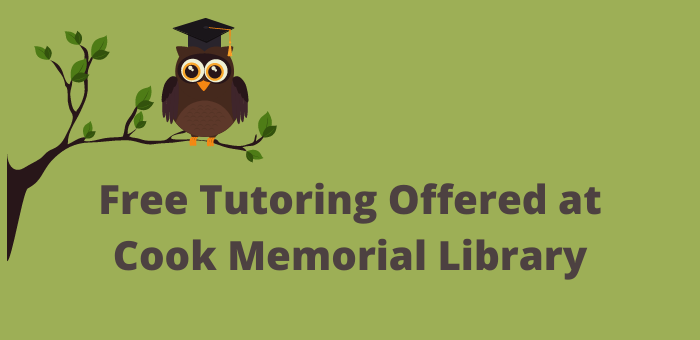 It's Red Ribbon Week! Today's theme at LMS is "Do Sports Not Drugs!"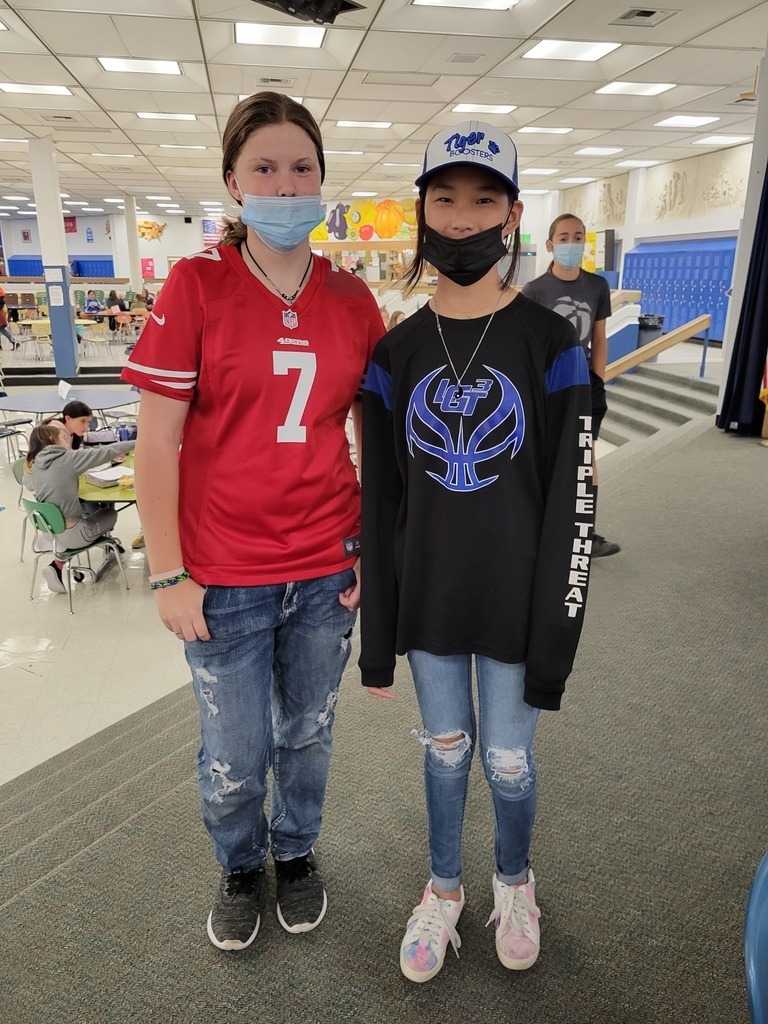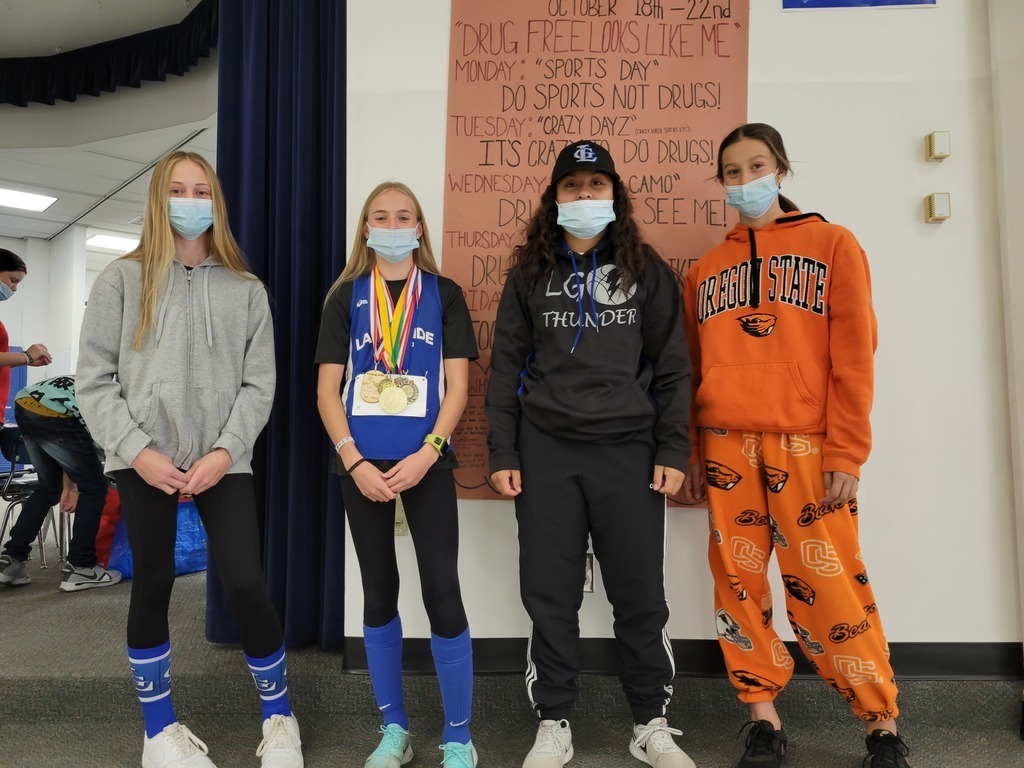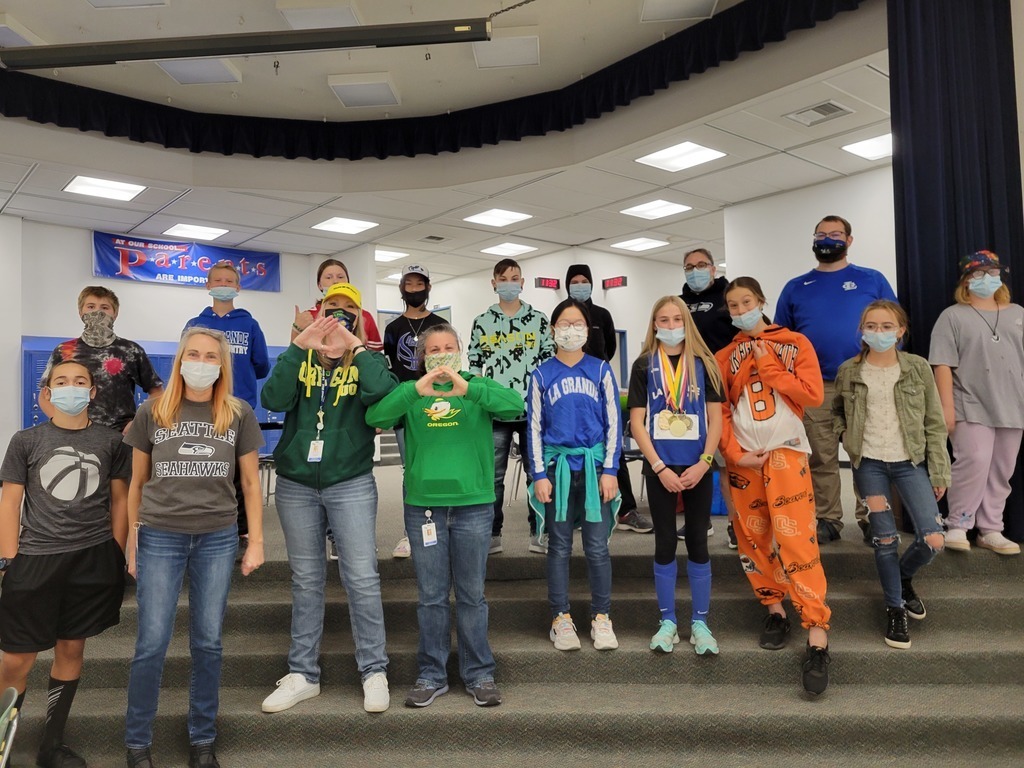 It's Red Ribbon Week! LMS students today demonstrated, "Do Sports, Not Drugs!" by wearing sporty attire!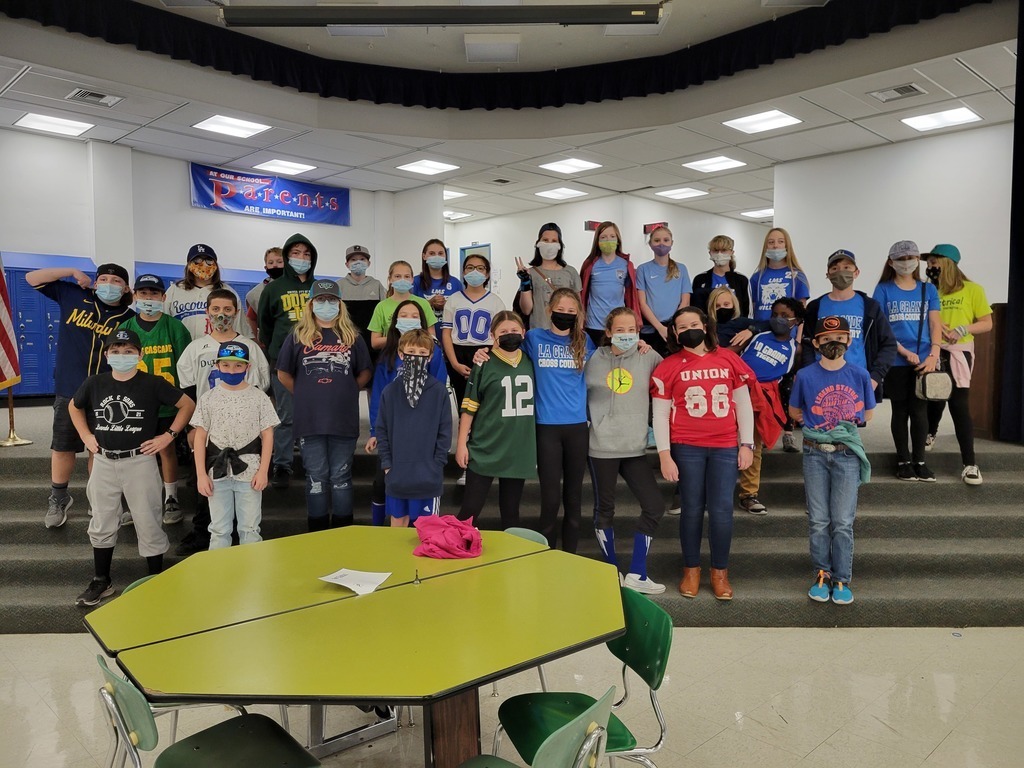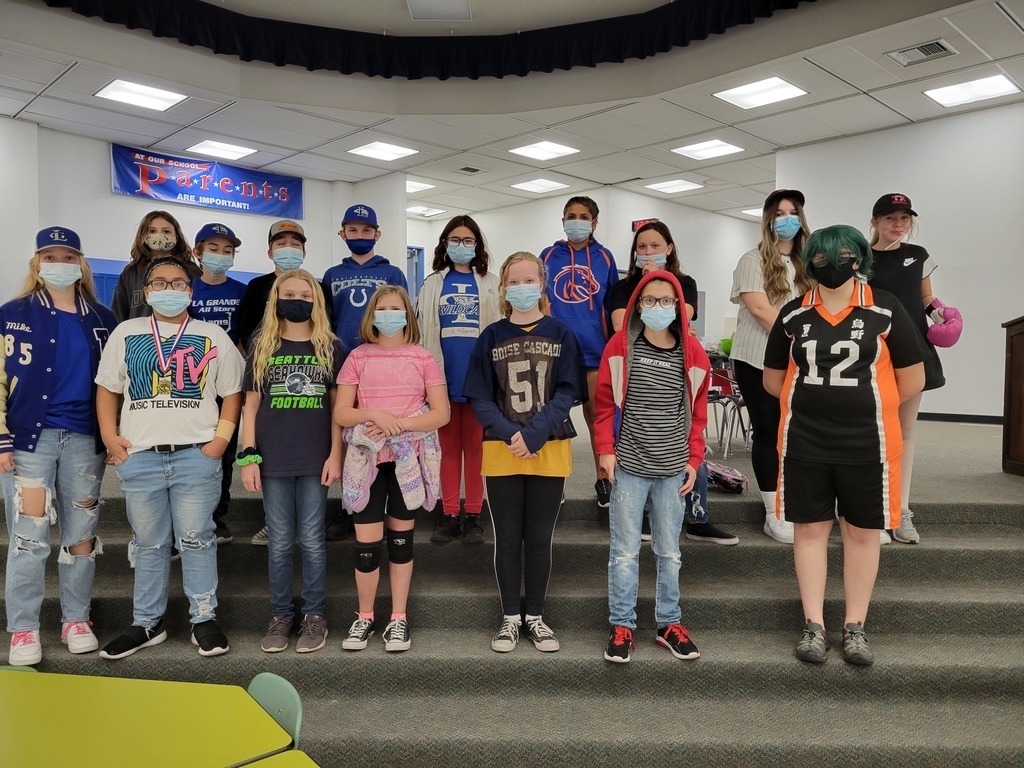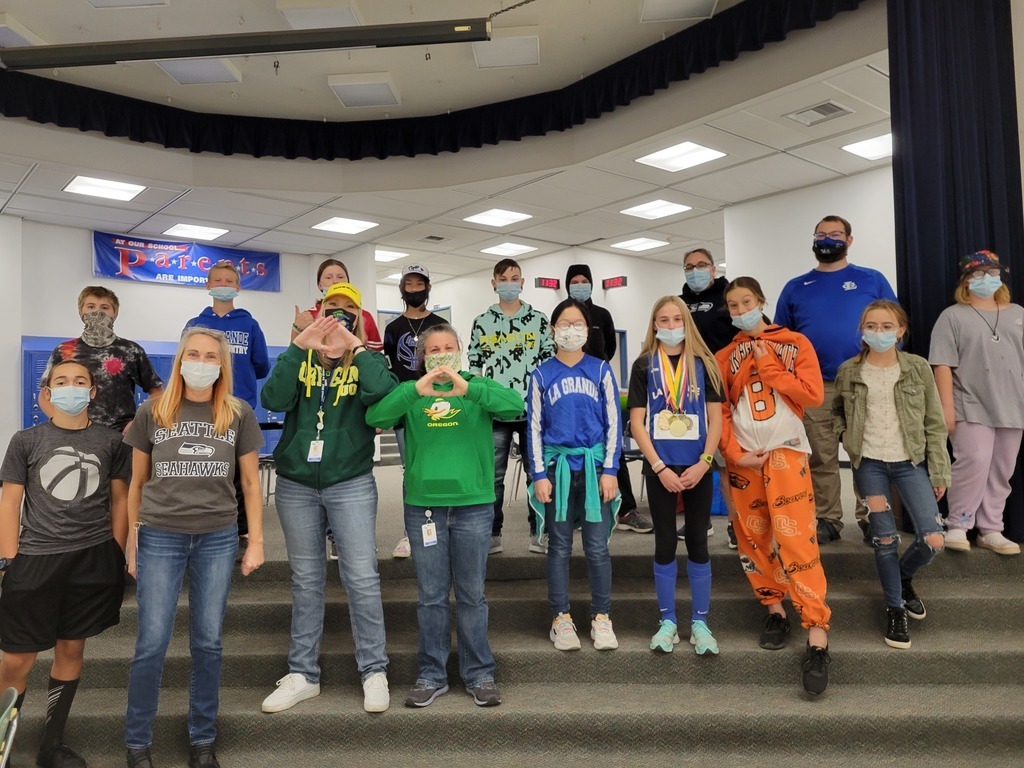 Meeting tonight!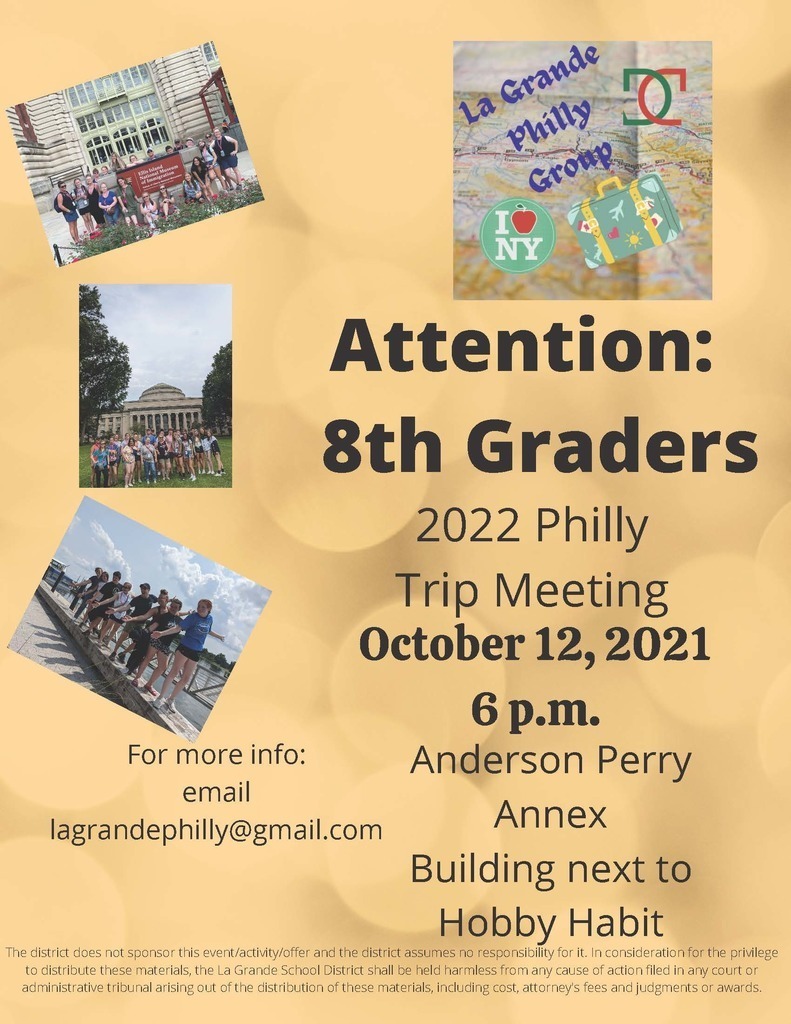 The football game on October 14th has been moved from 6:00pm to 4:30pm. Bus transportation will be provided.

LMS picture re-take day is set for November 4th. Please reach out to us if you have any questions.

We look forward to seeing students on Monday!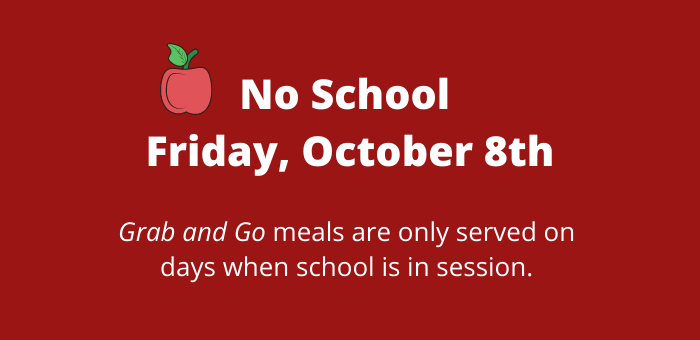 LMS is looking for a volunteer coach for our 6th grade co-ed basketball season. The season runs from 3rd week in February until Spring Break. If interested please reach out to us 541-663-3421 and ask for our Vice Principal, Mrs. Hurilman.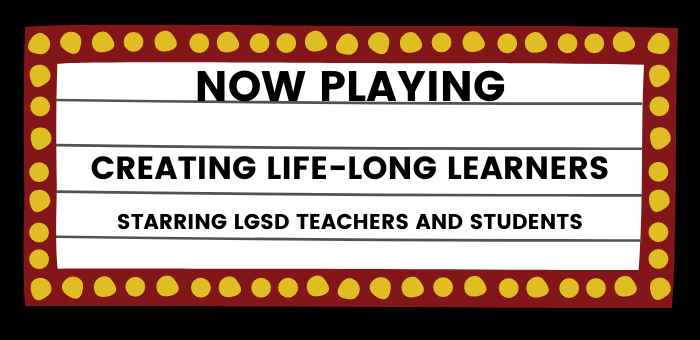 Art Center East and La Grande Parks and Recreation are offering a free opportunity for middle schoolers! Explore, draw, sculpt, take pictures, and investigate our neighborhood parks! Thursdays from 3:30 - 5:30 pm, September 16-October 21. It's not too late to start! For more information see
https://artcentereast.org/calendar/category/classes/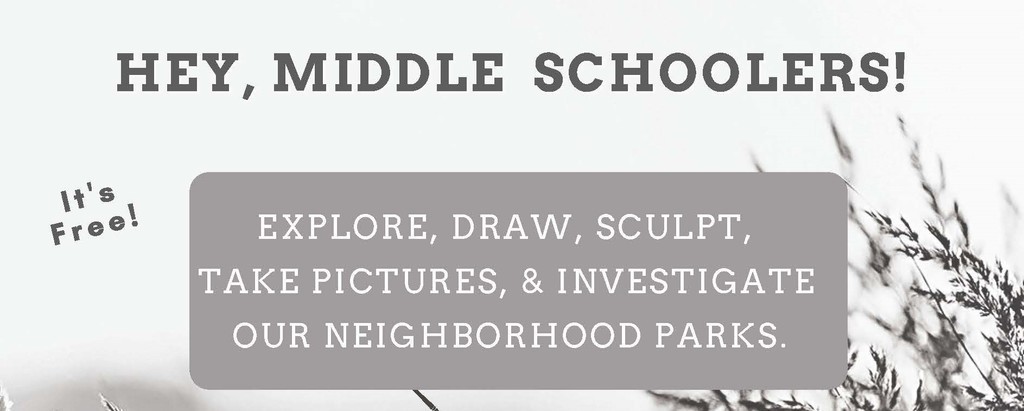 Virtual Girls in Science 2021 registration information. Please see attached flyer for more details.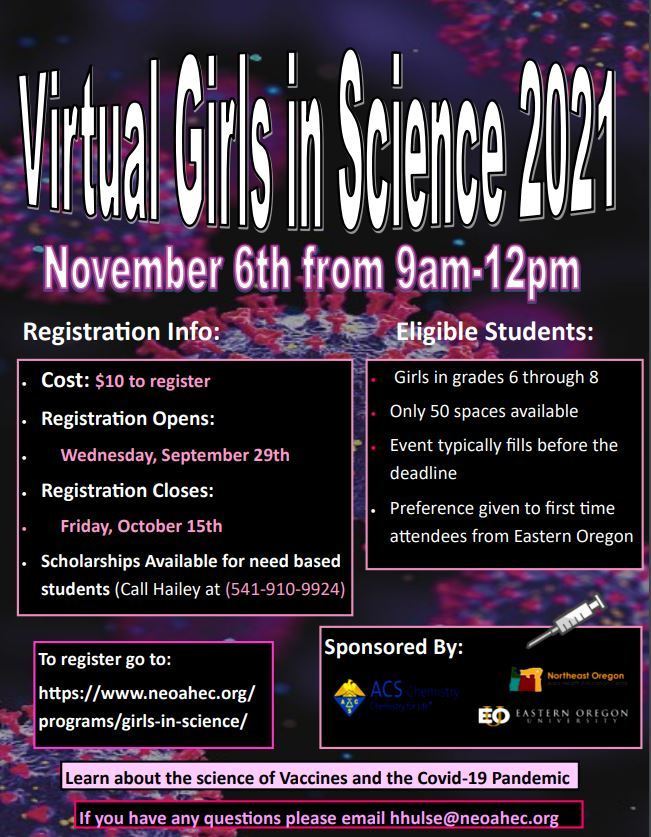 Click here to find out more information about upcoming "Conscious Discipline for Families" virtual courses:
https://5il.co/zrlq

Mera Drug Free Run October 23rd. Please see attached flyer for more details.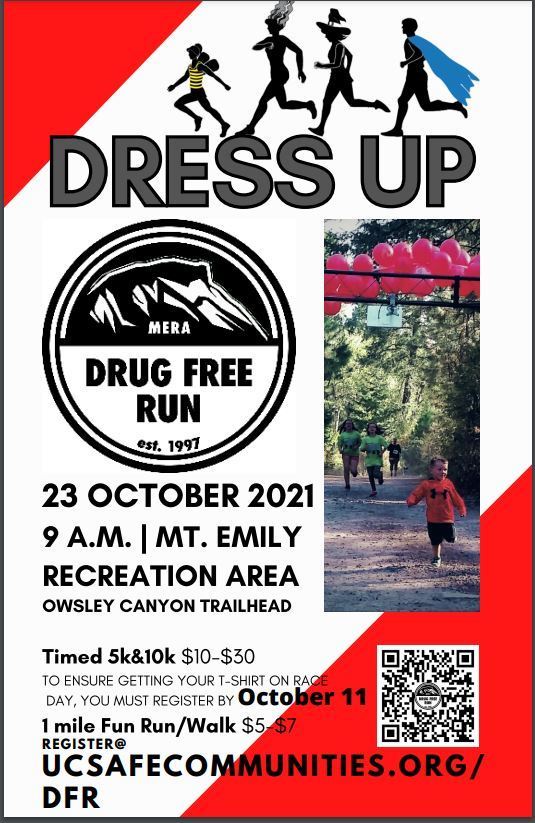 Below are the approximate game times for tonight's volleyball matches against La Grande. Our intramural teams will be playing La Grande's B teams so we have added two matches. The games will be livestreamed on the link below. Mask will be required for all spectators.
https://youtube.com/channel/UC406yAK1yndTPuMbgWwak2g
4:00pm 7th Baker IM vs. 7th La Grande B 5:00pm 7th Baker Travel vs. 7th La Grande A 6:00pm 8th Baker IM vs 8th La Grande B 7:00pm 8th Baker Travel vs. 8th La Grande A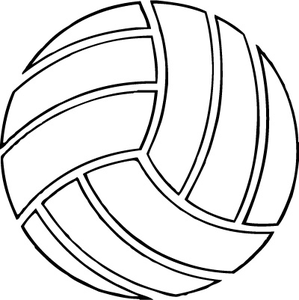 Growing Meaningful Connections with Your Child is tomorrow night, Tuesday, September 28th, at 6:30 pm - virtually or at LHS. See this flyer for more details!
https://5il.co/ziy6

Growing Meaningful Connections With Your Child Presenter: Michael Sedler See attached flyer for details