Wrestling workouts and practices will start on November 16th and run through December 18th for all 6th-8th graders who are interested. Practices will be held on Mondays and Wednesdays from 3:30-4:30. Kids need to bring a water bottle, mask, hand sanitizer, wrestling shoes and athletic clothes. Wrestlers will enter the building through the gym doors on the K Ave. side ONLY. They will be temperature checked and screened at the door upon arrival. Please register your student if they are interested at
https://orlagrande.intouchreceipting.com/signin.aspx
if you do not remember your Parent Vue login information please use your student's ID number as a username and their last name, first letter capitalized, as the password. A current sports physical is required.

Parents: please click on the link and fill out the brief survey to help us reach a better understanding on how our families are feeling about getting our students back for in person instruction. Thank you for your feedback!
https://forms.gle/kmALptZd6Bq8RWsC8

Reminder: Tomorrow, November 4th, the middle school has a pick-up day scheduled. Please look for communication from your student's teacher to know if you need to stop by to pick up any materials.

Superintendent George Mendoza issued a public statement to La Grande School District staff, families and community regarding new COVID-19 standards to allow more Oregon schools to reopen. Please find the update from Superintendent Mendoza here:
https://5il.co/mnur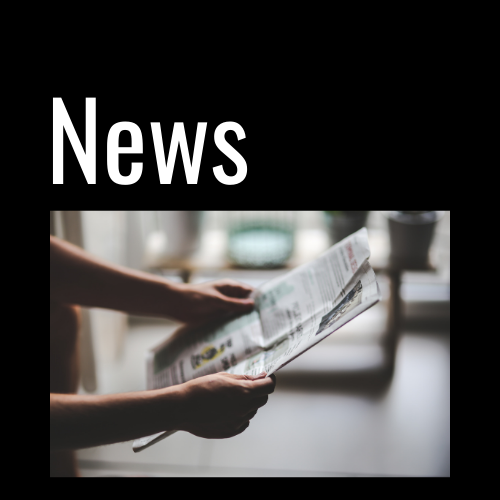 Next Wednesday, November 4th, the middle school will have a pick-up day. Please look for communication from your student's teacher to know if you will need to stop by for any materials.

Hi Track and Cross Country Athletes, Just a reminder that today from 3:00-4:15 will be our last practice, as well as our Halloween Fun Run! Everyone is encouraged to come in their Halloween costume (or a crazy outfit) to participate in the run this afternoon! Please remember to keep your costumes school appropriate (no revealing outfits or weapons), but face paint, hats, wigs, masks, etc. are all allowed and encouraged! Please remember to wear your regular face mask in addition to your costume. We can't wait to see you all dressed up! -Coaches Kretschmer and Gisi

Just a quick reminder that there is no school October 28th - 30th due to teacher work day/conference days. Please look for communication from your student's advisory/homeroom teacher to schedule a conference day and time.

Please be sure that your student is completing and turning in their Wednesday Grade Check assignment each Wednesday. Because Wednesdays are a support day and there are not regular scheduled classes, this is how we will take attendance for this day. Thank you for your continued support during distance learning!

Just a reminder, football practices start Tuesday, October 13th for any 7th and 8th graders who are interested. These are just practices and workouts so no sports fee is required. Practices will be from 3-4:15 at the upper football field every Tuesday and Thursday. Please register online at
https://or-lagrande.intouchreceipting.com/signin.aspx
. User name is your student's ID number and password is their last name with the first letter capitalized.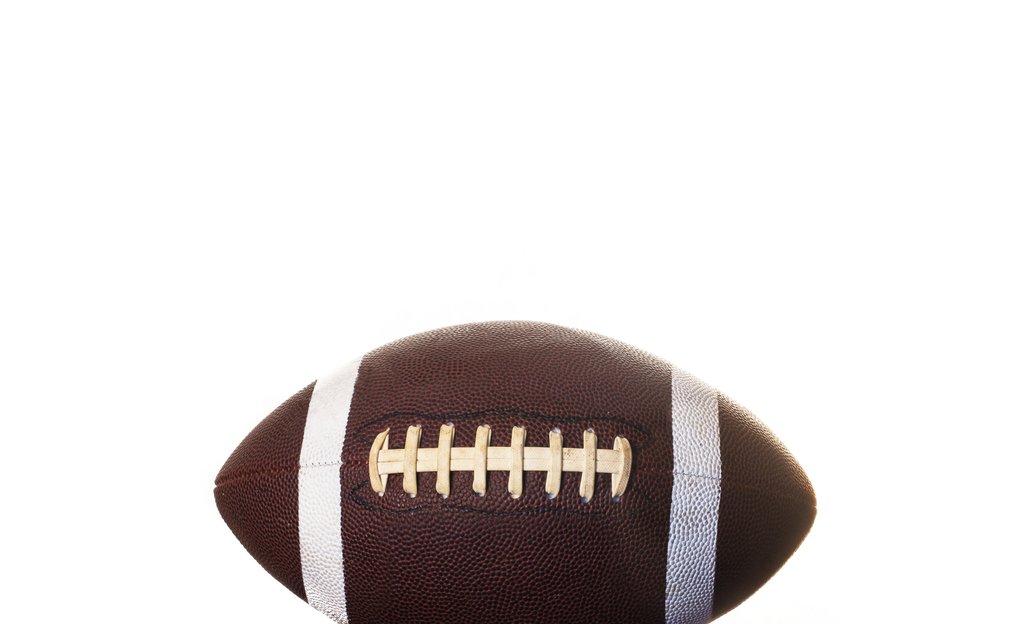 Reminder: No school this Friday, October 9th. Have a great long weekend!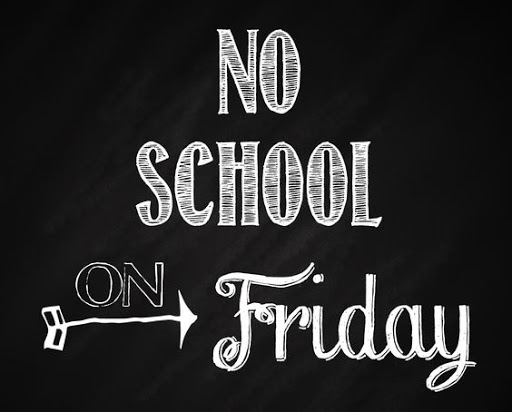 Just a reminder, the middle school may have items for your student to pick up this Wednesday, October 7th, stop by anytime between 7:30am - 5:30pm. Please look for communication from your student's teacher. All 6th graders will have items to pick up.

See flyer for Fire Relief Donations details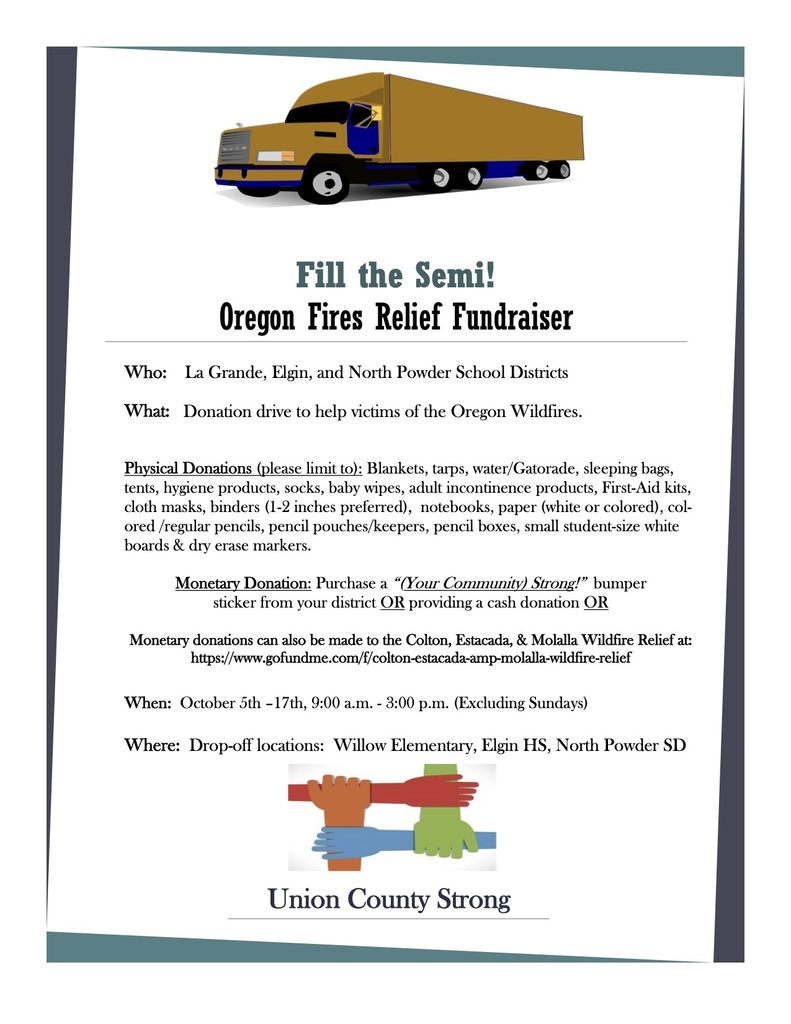 There will be an informational meeting October 5th at 3:30 on the soccer field for any 7th or 8th graders interested in playing Volleyball this year. To register your student for volleyball please visit the online registration site.
https://or-lagrande.intouchreceipting.com/signin.aspx

Wednesday's are our Library book pickup and drop-off days. There will be a red cart in the front breezeway with books that have been checked out and a bin for book returns.

All elementary schools are doing materials pick up day every Wednesday but the middle school is not. We will plan Wednesday pick up days as needed and we will be sure to let you know by phone call or text before we have the next one. Thank you!

Due to poor air quality, we have to cancel middle school track and cross country practice today. We hope to resume practice on Wednesday from 3-4:15 at the LHS track.

Quick FYI about Track and Cross Country: Right now the kids are participating in workouts and practice. The actual season will not start until the spring. Please be sure to register your student for participation online. The registration link as well as instructions are at lms.lagrandesd.org. Go to "Menu" and then the "Athletics" drop down to find these. A current sports physical is required.

Quick FYI for Track and Cross County: If your student is going to be participating make sure they bring a mask and water bottle with their name on it. Also Track workouts will be running based, no throwing/jumping.

Track/Cross Country workouts start this week for any LMS students in grades 6-8. Workouts will be on Mondays and Wednesdays at the LHS track from 3-4:15, starting Wednesday, Sept. 9th. To register, visit the "Parents Resources" page of the LMS website. Please call 541-663-3427 for registration questions.

No school Monday. Have a wonderful long weekend!